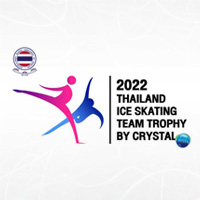 2022 Thailand Ice Skating Team Trophy by Crystal
January 29, 2022
Bangkok, Thailand
@IWIS International Training Center "The ISU Center of Excellence"
GENERAL:

Thailand Ice Skating Team Trophy 2022 is the first team competition that combines both figure skating and short track speed skating in an event, organized by the Figure & Speed Skating Association of Thailand. It is held with a purpose of winter sports development in Thailand. This event is aimed not only to promote the sports but also to provide Thai skaters with an opportunity to compete as a team as well as encourage teamwork and reconciliation among skaters, coaches and parents of two different sports.
BASIC EVENT FORMAT AND TEAM DRAWING

Participating skaters will be divided into three team colors; red, blue and yellow. Each team will be composed of the same numbers of figure skaters from level 1 to level 8 and short track skaters from Novice to Junior A level.

In case of an incomplete number of team members, OC reserves the right to consider a substitution based on ages and skating levels, or different criteria for score calculation may be applied for the fairest games.

Teams division will be drawn by participants or their representatives on 21 January 2022 at IWIS international Training Center - the ISU Center of Excellence.
Organized by:

FIGURE & SPEED SKATING ASSOCIATION OF THAILAND
Documents Download